A Visit With My Canadian Friends/Family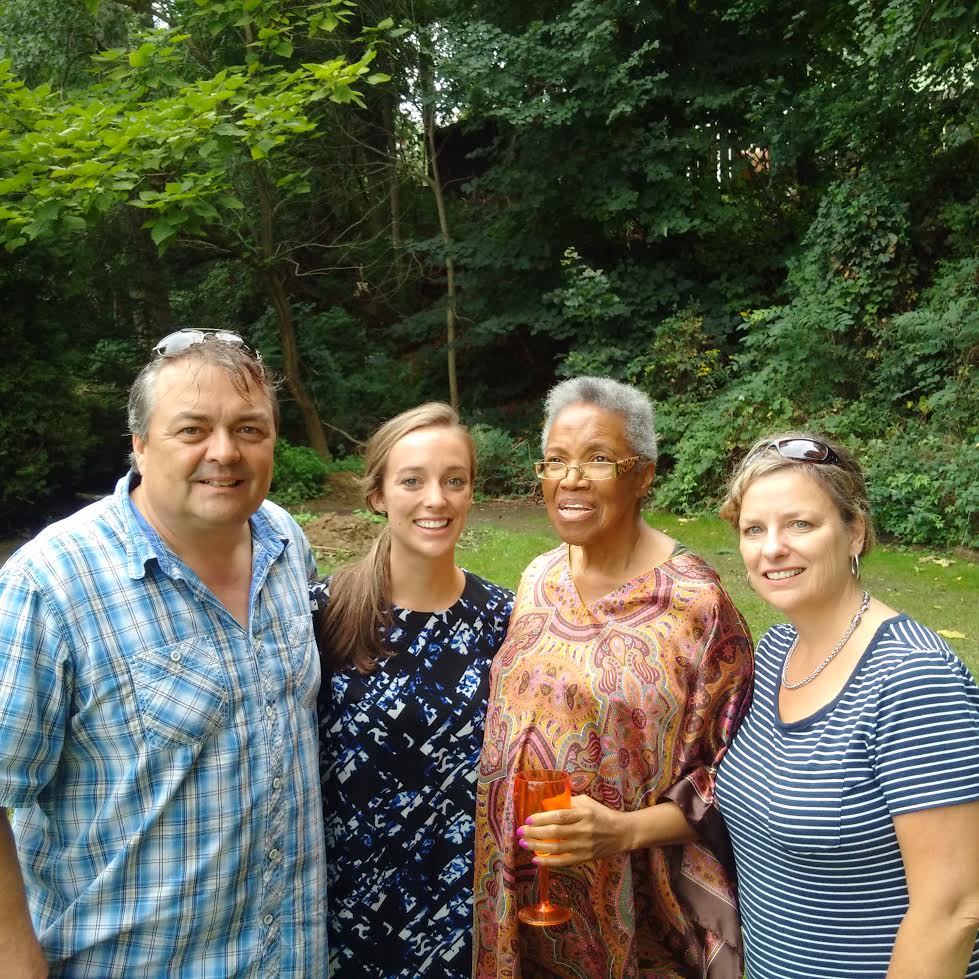 Labor Day I traveled from San Jose, Costa Rica (SJO) to the Toronto, Canada Airport (YYZ) .    I traveled to spend the holiday with my Canadian friends Paul and Karen Bollenbach, in Kitchener, Ontario Canada. Kitchener is a city in Southern Ontario, Canada.  Located approximately 100 km west of Toronto,  Kitchener is the seat of the Regional Municipality of Waterloo.
I met Karen and Paul Bollenbach, Canadian citizens, 10 years ago while they were guests at La Terraza Guest House B&B. When we first greeted one another, I learned that their family was originally from Germany. Having lived previously in Germany for 12 years, I immediately established a friendship and bonded.
The Bollenbach's have visited La Terraza Guest House many times. During these visits, our relationship quickly transitioned from strictly business to a family type of relationship.   I unofficially adopted their children, Jennifer and Patrick as my grandchildren and am very proud to have the privilege.  Jennifer is a sociology major studying the development, structure and function of human society.  Soon she will be going to Rwanda. With her huge heart and beautiful eyes, she dedicated to healing the world. My grandson Patrick was not in Kitchener when I arrived.  Patrick was visiting Dominical, Costa Rica working and surfing the waves each morning.  He enjoys IT work and most of all loves to travel.
Kitchener Ontario is about the closest I can get to visiting Germany from Costa Rica. I went shopping and picked up some Braunschweiger liverwurst, Polish sausage, and German bread. It was a short stay but fantastic. I was invited to spend time with the Bollenbach's extended family at Port Frank.  The event, held in a waterfront cottage on Lake Huron.  Two brother-n-laws celebrated their birthdays, together the family roasted a pig. The weather was more than beautiful, it was just perfect, almost as if God explicitly laid it out for me that weekend. I enjoyed myself tremendously.  The entire family graciously received me as if I were born one of them.  On Sunday I was blessed to meet additional members of Pauls family.  I also got to see his Uncle Henry and his wife once again. They prepared Plum Kuchen, and Peach Kuchen wich was marvelous.
People always ask me, "Jeanetta why are you still working at 70 years old"? My answer is simple. La Terraza Guest House B&B has afforded me friends and relationships with people from diverse parts of the world. It is wonderful having a Canadian Granddaughter checking in on me from time to time.  When you are a traveler like myself, It's a blessing and necessity to create more family outside of my bloodline. When I read articles about older people being lonely, I think about how blessed I've become.  Not only to have an excellent quality of guest but also the guest who have become real friends.  In most cases as the Bollenbach's have transitioned into an additional family. Why be lonely? Keep adding to your family as you age. "Pura Vida"  Canadian Friends!